Ag company receives investment through AgSprint program at NMSU's Arrowhead Center
November 2, 2018
|
|
News
ETV subsidiary Systems Technology Solutions awarded a $20,000 investment from New Mexico Gas Company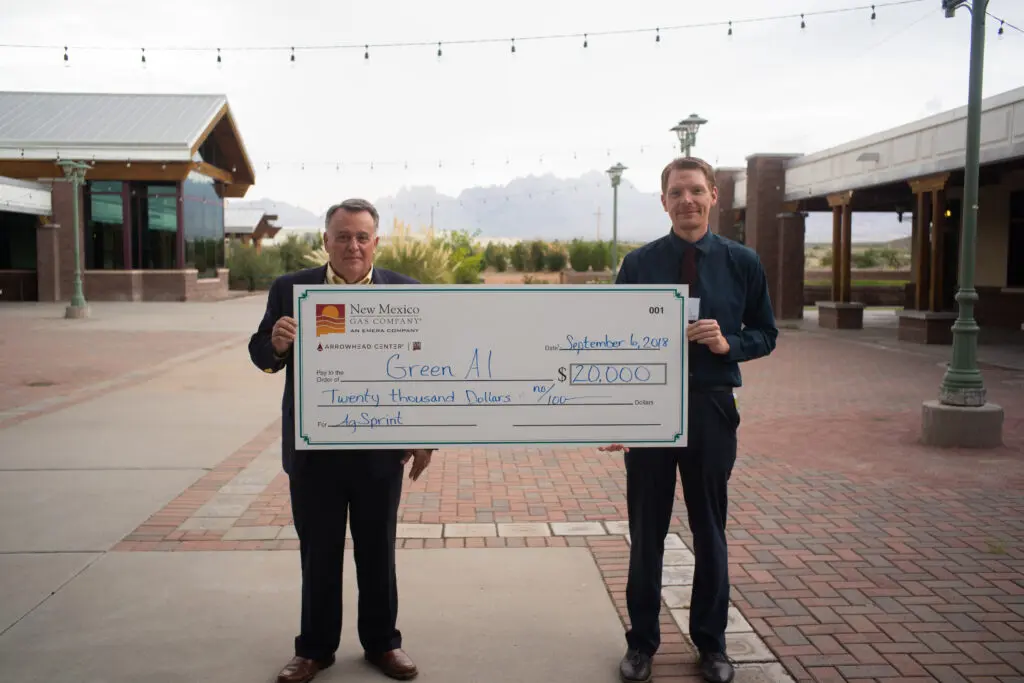 Las Cruces, NM—November 2, 2018—Cliff Hudson, chief technology officer of Systems Technology Solutions, is no stranger to agriculture. Hudson grew up on his family's farm and regularly rode a tractor with his grandfather while he cultivated corn. He has a deep appreciation for farming and community. His company recently secured a $20,000 investment for GreenAI, an innovative sensor technology for crop analytics, through the AgSprint business accelerator program at New Mexico State University's Arrowhead Center.
STS developed GreenAI in response to an ongoing agricultural challenge of a person or organization being data-rich and information-poor. They collect large amounts of data, but the data is not timely, actionable, or ready to be implemented in the field. GreenAI brings value to the data that people and organizations are already collecting.
"Everything is connected, including agriculture," said Hudson, an electrical engineer. "We live in a systems network world, like it or not. We have to think and design from a systems standpoint — where does your data go, where are you collecting data from and what do you do with it once you have it? I really see that technologies are not singular for a farm. They are community-based because we can collect data and develop better trends for an entire farming community rather than just a single farming operation."
Hudson's team includes managing director Deborah Hudson, chief engineer Gary Bullock, and software engineer Ziad Arafat.
As part of deploying the company's minimum viable product, GreenAI needed to identify willing customers who could participate in an iterative design process with the team. The team turned to Arrowhead Center at NMSU, which supports innovators and entrepreneurs at all stages. The team participated in AgSprint, a business accelerator program designed to grow agtech startups. Through the program, the team worked to identify which customers would support the team in the next design phase.
"When you're an early-stage company, that engagement with the customer is so important," Hudson said. "We call it a customer-centric design process, engaging the customer to fully understand their needs. AgSprint gave us that essential influence and technical approach. The program's curriculum was incredibly beneficial. We continue to use it, even past the end of the cohort."
AgSprint curriculum is based on the National Science Foundation I-Corps curriculum and focuses on mentoring and supporting teams as they move through the customer discovery process, with the goal of commercialization, or taking technology to the marketplace. AgSprint's business mentors come from Arrowhead's network of Enterprise Advisors and are part of a rich web of available resources to entrepreneurs — the Arrowhead Innovation Network.
"The mentorship experience base at Arrowhead you just can't get anywhere, and they are focused on the teams and supporting and nurturing them through the process," Hudson said. "Tough love, too. They give you honest feedback, we could not have accessed that team of advisors anywhere else."
The $20,000 investment in GreenAI, sponsored by Arrowhead's industry partner New Mexico Gas Company, will open additional doors for STS by accelerating the placement of their minimum viable product in the field.
"Our beachhead market is corn, and working heavily in Indiana with corn farmers is our first market opportunity. With the deployment next year with the planting season, we need to be ready with that first capability and so the investment gives us the needed support for materials and resources. We're cloud-based so we have Amazon Web Services, and we'll be bringing two more software engineers on board, so the investment will also help us out from the labor standpoint," Hudson said.
Another asset Hudson appreciates with the access to NMSU talent. The team has several students from the NMSU College of Engineering working with and interning for GreenAI, with whom they were connected by Arrowhead Center.
"The way Arrowhead has been placed and integrated in NMSU, it is that pathway for future entrepreneurs. It's really vital from a community standpoint, honestly. We need a reason for our kids to stay here in New Mexico. Toward this, Arrowhead and NMSU together support programs like AgSprint that are essential to the future of our state," Hudson said.
About the Arrowhead Center's AgSprint business accelerator program:
AgSprint is facilitating innovation in agriculture in partnership with the NMSU College of ACES and industry partners. Visit arrowheadcenter.nmsu.edu/agsprint, or contact Zetdi Sloan, program director, at (575) 646-7833 or zrunyan@nmsu.edu.
This article was originally published by New Mexico State University NewsCenter